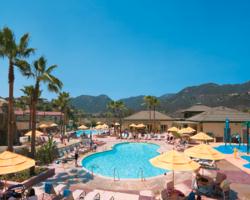 Villas On The Greens At The Welk Resort
8860 Lawrence Welk Drive
Escondido CA 92026
Phone: 760-749-3000
Located 30 miles north of San Diego, Villas On The Greens offers 600 acres of vacation fun in a lovely setting. It's all here: two 18-hole golf courses, six swimming pools, four lighted tennis courts, two exercise rooms, a lap pool, Mr. W's Restaurant, and a theater featuring Broadway-style shows. Dozens of on-site activities are available including escorted tours to Hollywood and Mexico. Guests enjoy visiting the area's beaches and attractions, such as the San Diego Zoo and Disneyland.
Some of the resorts that we sell timeshares at are Lawrence Welk Resort, Villas at the Green at the Welk Resort, Welk Platinum Points, Coronado Beach Resort, Carlsbad Seapointe Resort, Grand Pacific Palisades Resort, Carlsbad Inn, Villa l'Auberge, Winners Circle Beach and Tennis Resort, Southern California Beach Club Resort, San Luis Bay Inn, Marriot's Newport Coast Villas, Palm Springs Tennis Club, Desert Isle Resort, Desert Breeze Resort, Casitas del Monte Resort, and many more timeshares resorts throughout the United States and Canada. We never charge an upfront fee.
Nobody sells more timeshares at the Lawrence Welk Resort Villas, at the Villas on the Green or the Welk Platinum Points than California Timeshare Resales does.
Click here for more information about the Lawrence Welk Resort Villas.
Click here for more information about Lawrence Welk Resort Villas day use rules.
– WE ARE LICENSED BY THE DEPARTMENT OF REAL ESTATE CALIFORNIA –
TO SUBMIT AN OFFER
CALL ME TOLL FREE AT 800-860-6529 OR USE THE FORM BELOW TO SEND US A MESSAGE