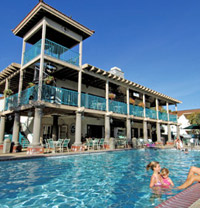 Fairfield Anaheim at Dolphin's Cove
465 W. Orangewood Avenue
Anaheim CA 92802
USA
Phone: 714/980-0830
Dolphin's Cove Resort is located one and a half miles from Disneyland. The resort is a delightful open-space condominium that boasts large units with balconies or patios overlooking well-landscaped grounds. The area is quaint and relaxing, yet the sounds of the city add to the urban setting. The resort has a strong amenities package with social activities centered around a pool and water area.
– WE ARE LICENSED BY THE DEPARTMENT OF REAL ESTATE CALIFORNIA –
TO SUBMIT AN OFFER
CALL ME TOLL FREE AT 800-860-6529 OR USE THE FORM BELOW TO SEND US A MESSAGE