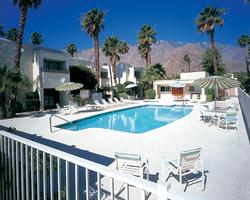 Desert Vacation Villas
250 W. Vista Chino
Palm Springs, CA 92262
Phone: 760/323-9898
Desert Vacation Villas is the perfect spot to relax and enjoy the beautiful desert scenery. Palm Springs has many superb golf courses. On-site activities include an outdoor pool, whirlpool, table tennis, bicycles, and two barbecue grills. Play tennis on nearby park courts. Hiking, jeep tours, and horseback riding are popular ways to explore the Indian Canyons. The resort is minutes from the Aerial Tram and the Air Museum. Every Thursday night the main street closes for Village Fest.
– WE ARE LICENSED BY THE DEPARTMENT OF REAL ESTATE CALIFORNIA –
TO SUBMIT AN OFFER
CALL ME TOLL FREE AT 800-860-6529 OR USE THE FORM BELOW TO SEND US A MESSAGE