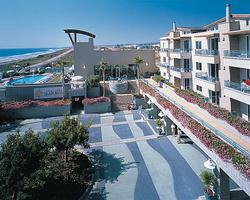 Carlsbad Seapointe Resort
6400 Surfside Lane
Carlsbad CA 92009
USA
Phone: 760-603-1700
Fax 760-603-1710
Reservation manager fax 760-603-1380
Carlsbad Seapointe Resort overlooks the Pacific Ocean and is only 500 yards from one of the few undeveloped stretches of beach in San Diego's North County. The quaint village of Carlsbad is a short drive to the north. San Diego is south, a short drive away. SeaWorld, San Diego Zoo, San Diego Wild Animal Park, and the Cabrillo National Park and Lighthouse are within 30 miles. The resort has many amenities to offer, including an outdoor adult pool and family pool, health club, and much more. In the evening, relax by the pool, lounge, or garden area and watch the sun slip into the Pacific Ocean.
Some of the resorts that we sell timeshares at are Lawrence Welk Resort, Villas at the Green at the Welk Resort, Welk Platinum Points, Coronado Beach Resort, Carlbad Seapointe Resort, Grand Pacific Palisades Resort, Carlsbad Inn, Villa l'Auberge, Winners Circle Beach and Tennis Resort, Southern California Beach Club Resort, San Luis Bay Inn, Marriot's Newport Coast Villas, Palm Springs, Tennis Club, Desert Isle Resort, Desert Breeze Resort, Casitas del Monte Resort, and many more timeshares resorts throughout the United States and Canada. We never charge an upfront fee.
Nobody sells more timeshares at the Lawrence Welk Resort Villas, at the Villas on the Green or the Welk Platinum Points than California Timeshare Resales does.
Click here for more information about the Lawrence Welk Resort Villas.
– WE ARE LICENSED BY THE DEPARTMENT OF REAL ESTATE CALIFORNIA –
TO SUBMIT AN OFFER
CALL ME TOLL FREE AT 800-860-6529 OR USE THE FORM BELOW TO SEND US A MESSAGE